Remembering Chris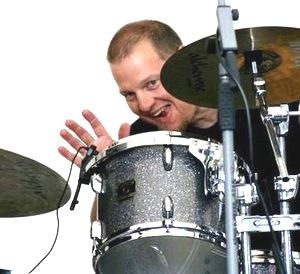 Chris Haylock (9th January, 1969 - 24th June, 2012)

I had the privilege of meeting Chris Haylock through a jam session with DC Cardwell and I was instantly hooked. He played in a few bands but that didn't really bother me. I wasn't a teenage muso anymore and I just liked to play with anyone. I enjoyed the jazz twists in his playing, the anticipation of his fills and the precision of his accents. A friendship grew and we sometimes had dinner, some wine and then we would just jam (at DCs, Chris' or my place). Sometimes we played a gig but it was only a few times we shared the stage. The last time we played a show together was 26th March, 2011 at the Chandelier Room with DC Cardwell and Samuel Cardwell.
It was a quick few months that flew and then Chris passed away on 24th June 2012. We were saddened and shocked by the swiftness of his illness. I actually felt quite a bit useless at the time so all I could do was uplift him, Cath and the family in prayer. I don't know why these things happen but when they occur to young people there is a lot of questions I have. Living life to the full is a great goal but we sometimes don't understand that experiencing the highs is not the whole definition of living life to the full. It is experiencing the lows as well and I know that Chris' character during those low periods is a testament to how he truly lived his life to the full. He was a generous, gracious and loving person, even in his most difficult times and we miss him dearly.
Chris On Drums CD
To honour the memory and the wonderful talent of Chris, there was an idea that came about recently to put together a CD of Chris playing drums on various recordings. Chris' brother, Steve Haylock, is in the process of reviewing recordings from various sources to put together on an album that will hopefully see the light of day soon. You can read more about it
here
.
DC Cardwell, Samuel Cardwell, Chris Haylock and I performed a Christmas Show at the Chandelier Room on 5th December 2010 and a friend of mine, Ben Morris, recorded the show. The raw tracks were literally stored in the vaults (well, stored on my hard drive) and we completely forgot about it. Around the time of Chris' passing I was reminded of it and I chanced upon the files as I was scanning through my computer.
I am pleased to say that there are nine complete songs from the show that I have found and I am in the process of mixing and mastering the tracks with DC Cardwell. We hope that some of the material finds its way to the "Chris On Drums" album and I am almost certain that all the tracks will be available on its own album. We hope that this will be in the next few months.